Many types of molecular biology lab equipment are very expensive and thus hard to get access to. This is because the market for such equipment is relatively small, and when that is coupled with limited competition among suppliers, the result is a reduced incentive to lower prices or innovate. In competitive mass markets product quality goes up and prices drop dramatically. For instance, flat screen televisions and smart phones have increased dramatically in quality and decreased dramatically in price over the last 10 years. In contrast , the cost of most lab equipment increases on a yearly basis. Companies also do not want to accrue the cost of storing unordered products, adhering to a "just in time" production schedule. This can increase the time a lab needs to wait to use the product while it is being manufacture and shipped.
With the arrival of increasingly more affordable 3D printers, and better public access to high-end 3D printers commonly found in maker spaces, laboratories on a limited budget can now design, print and use, quality equipment quickly and at a reasonable cost.
The Great Lakes Biotech Academy is focused on making biotechnology research more accessible and needs to cleanly extract DNA from various types of isolated fungi. Fungi have complex cell walls made of chitin and beta-glucans, that need to be disrupted in order to release DNA. Mechanical shearing utilizing rotor-stator homogenizers can do this, but the tip which generates the high shear forces, needs to be cleaned between each extraction.
Currently any laboratory processing more than just a few samples at a time needs to use a tube based "bead beater" homogenizer, that is coupled with silica based DNA absorption and elution. To break down fungal cell walls efficiently you need to place fungal tissue in a tube along with hard beads and use the bead beater to shake the tubes at very high speed to completely disrupt the tissue and release the DNA. Typically, such bead beaters can cost anywhere from $800 to $15,000 dollars, so this was a good target for using 3D printing.
As 3D printers have become more affordable, a number of websites, such as Thingiverse and Tinkercad, have begun to act as repositories of third party 3D designs that are shared free or at a low cost. These are good sites to check to determine if someone else might have already designed the type of equipment you need. After an internet search, a homogenizer design was found to be available on a NIH website. However, it was only available as a WRL file, which is hard to work with relative to the more common STL file.
The design (red) could hold a microcentrifuge tube snuggly within the T shaped section but utilized a plastic piece which extended from the homogenizer and to which two adapters were used to attach to a reciprocating saw that could shake the tube at greater than 3000 rotations per minute. The tubes fitted into the device and depending on tolerances of the printing they had the potential to either fall out during homogenizing or alternatively be very difficult to remove.
We therefore wanted to modify the original NIH design to not only increase the number samples that could be processed, but also more securely attach the homogenizer chamber to the reciprocating saw. Soon after we started to craft this new design, an updated version to the original file became available. The new design could process up to 6 samples, but it still relied on the plastic attachment point, that could weaken and snap off (tan). To address these remaining issues, we used an iterative development process that included: design, print, test, then redesign/modify, and repeat as needed.
Our initial designs started out very similar to the NIH design. After some analysis and consideration, we decided that our homogenizer design should be able to process multiple samples and different tube types. We also incorporated a lid that can be bolted shut to safely contain the sample tubes during the homogenization process and inserted an integrated metal hex shank. This should make the attachment to the reciprocating saw more secure and unlike the original design, should lower the possibility of the homogenizer breaking away from the reciprocating saw.
After testing several designs, we chose two as "final" versions that should work well in the laboratory. One design is very small, but can only accept standard 2 mL screw top tubes. The second homogenizer design is bigger, but we added the ability to insert adapters if the researcher would want to use either a standard 2 mL screw top tube, or snap top microcentrifuge tubes.
The final homogenizer chamber design relies on five elements.
A 3D printed lid that covers the tubes
A 3D printed homogenizer chamber that the tubes sit in
A 3D "cap" which is used to secure the hex shank/nut driver in the homogenizer, and a
1/2 hex shank magnetic nut driver that facilitates the attached to the
A hex shank to reciprocating saw adapter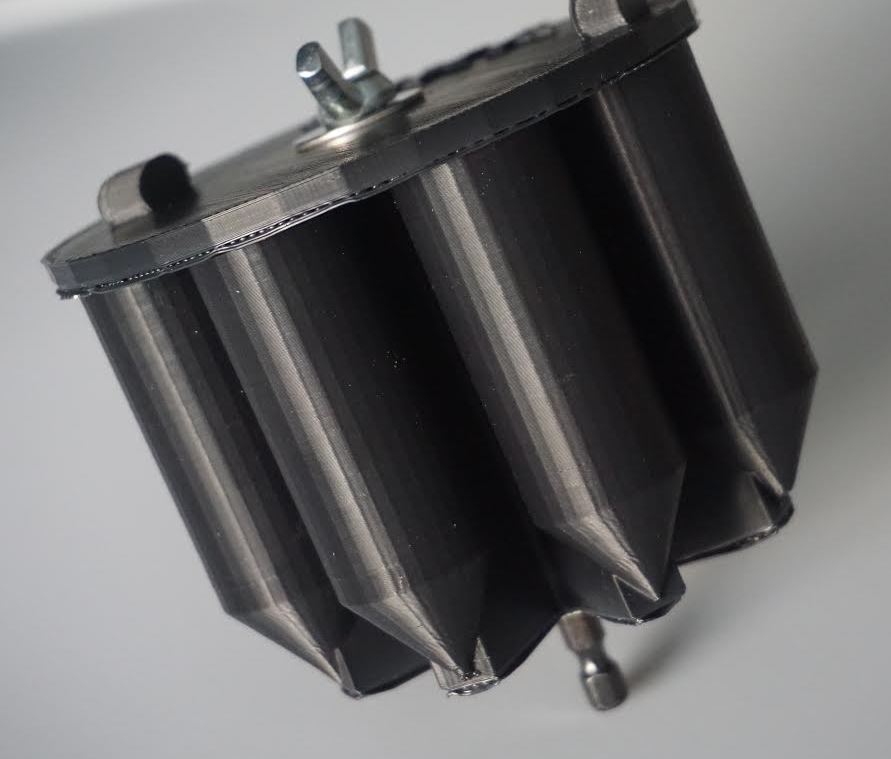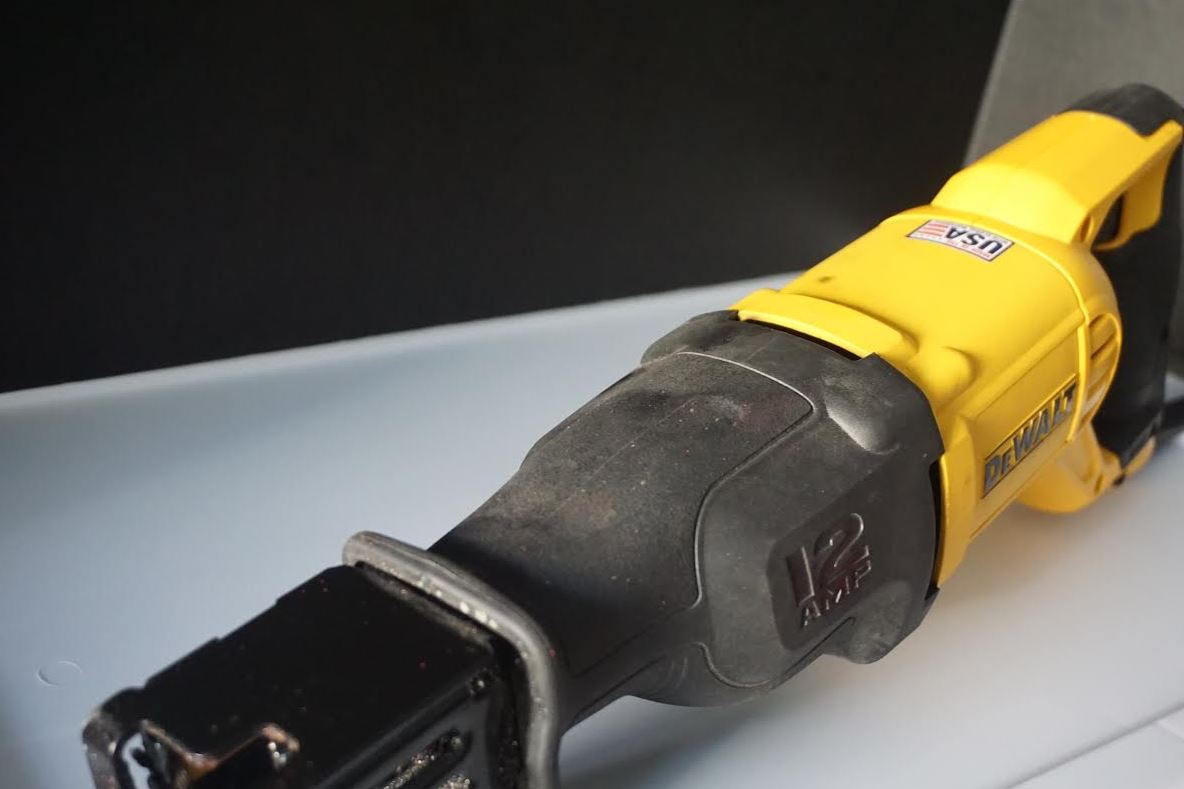 The hex shank magnetic nut driver can be obtained from a hardware store or bought online. The nut driver is magnetic and a short bolt is inserted into the hex shank driver and is permanently attached to the bolt by superglue. After the glue sets, the hex shank/bolt is then inserted into the homogenizer, such that the hex shank extends out of the homogenizer. You should then test to make sure that the reciprocating adapter can be securely engaged to the hex shank which is now extending out of the homogenizer.
When the adapter is attached to the hex shank at the base of the homogenizer it should be as flush to the 3D printed piece as possible. If your tolerances are off, you may notice that you have space between the adapter and the homogenizer. If this is the case it would be advisable to fill in that space with a couple washers.
Once the hex shank is attached to the homogenizer chamber, at the other end you will need to insert or twist the small 3D printed cap over the bolt and push it until its flush with the homogenizer. Superglue should then be used to seal it. After the sample tubes are placed in the homogenizer the lid is lowered over the bolt and is secured sequentially with a washer, a lock washer and then with at thumbscrew. A nut could also work but the thumbscrew allows for easier access.
The adapter is attached to the reciprocating saw model. We used a 12 AMP unit which can reach ~3000 RPMS. This is powerful enough to lyse even the very strong fungal cell wall. Depending on the power of your reciprocating saw, you may need to change the homogenizing parameters to extract DNA from you process efficiently.
We have used these designs to extract DNA from filamentous fungi, spores, and mushrooms with great success. Checkout some representative images of the homogenizer in action on mushroom tissue.
Please note : 3D printed objects do not go through the same rigorous quality and safety testing that commercial products do. Our design is based on printing with ABS filament and we have not tested this design with other filaments. You should be extremely careful when using any 3D printed design in conjunction with power tools. Always use safety glasses during the homogenization process and make sure the homogenizer is aimed towards the ground over a Styrofoam or cardboard box.